A little note: Are you addicted to your device? You know the signs:
You panic when you can't find your phone.

You text, read email and/or surf the web while you drive.

You text, read email and/or surf the web while you're out with friends/family.

A device of some kind is in front of your face most of the day (or at least in your pocket in case you need it).
Yah… you know what I'm talking about. And so do I! Believe me. You want to stop but you feel like you can't. DEVICE ADDICTION.
Well… you're not alone. Check out these stats: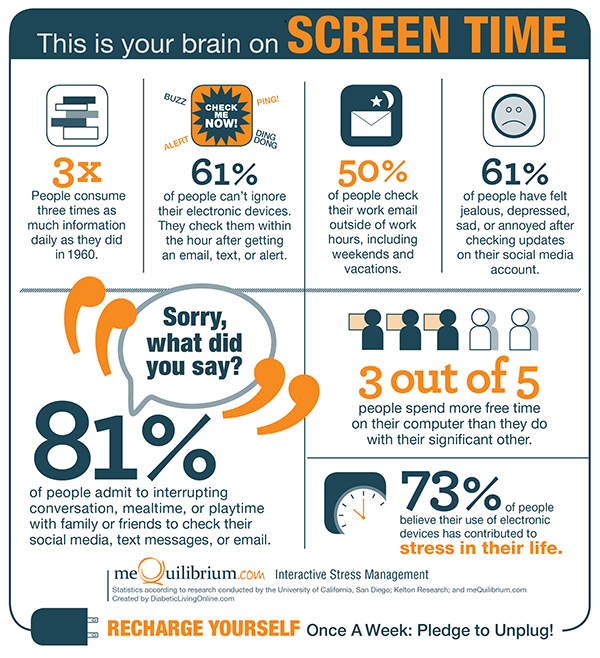 So, since most of us are addicted to our devices and get a lot of enjoyment out of them, I'm gonna sell you "hard" on unplugging. So this week's 5 for Friday is dedicated to giving you 20 ways that you can unplug.
But before I give you the Unpluggables – you should know what happens to you when you're device-ing all the time:
Increased Anxiety (especially social)

Blurred Vision & Eye Disease

Difficulty Focusing

Neck and Back Problems

Migraines / Headaches

Losing Connectedness & Relationships
But what will you do if you get off of your device?
Sooooooo many things:
Oldies but Goodies:
Take a walk or bike ride with someone you love.

Have sex!

Game night.

Go to the park.

Read a book.

Get a 90 minute deep tissue massage.

Mani / Pedi.

Grab a bite to eat with a friend.

DATE NIGHT!

Camping trip (or, sleepover in a tent in your backyard).
New Stuff I Bet You Didn't Think Of:
Build a tree-house.

Picnic in the rain. How you ask? Easy breezy. Eat in the back of your car – open the back window/door. Set up a tent or umbrellas. And go for it on the food:  (fried chicken (or tofu), potato salad… the fixings).

Write a book (on paper of course). Literally. Just a short one. Why not?!

Get some snuggles (we call them "lovies").

Practice yoga.

Pie fight with friends (this one is beyond worth it.)

Plant something (inspiring).

Play i-spy with your little one.

Paint (even if you think you're not good at it)
Unplugging is not only fun and invigorating but it, too, is addictive.
Unplugging now…
~ Amy
P.S. Have a favorite song, quote or snack? Share with me! Would love to hear from you. Just send a tweet to @amyapplebaum and put #5forfriday in there so I can find it. Or reach out to me on facebook: @amy.applebaum or Instagram: @amyapplebaum
P.P.S. > share this 5 for Friday with your bestie!
Enjoy the weekend!
* (photo credit: Getty Images/istock)