A Note from Amy
Women are warriors! (But you already knew that;)). And I believe, generally, they have a warrior mentality. They go through life, assessing what needs to get done and they do it… without much complaining and primarily without asking for help. I know… I'm a woman. And I've gone through most of my life like this. Especially when it comes to my business. But I've learned something very important about this Warrior – "I've got it all by myself" mentality. It's not the way to achieve success in your life and it's the fastest road to failure and/or stunted growth. Getting help means that you can spend your time doing the things that you are best at. Getting help means that you feel supported and taken care of. Getting help means you are moving at a "growth" pace. Getting help is a sign of intelligence and strength. Going it alone is none of these things. Food for thought my friend:)
Quote I'm Thinking About
"My mentor said, 'Let's go do it,' not 'You go do it.' How powerful when someone says, 'Let's!'" — Jim Rohn
Make sure you've got a people helping you get where you're trying to go:)
New Snack AND Food Prep Process I'm Enjoying
This week I'm all about getting help! (Since that's our theme.)
So how can I incorporate "help" into my dinner routine so that dinnertime is much more enjoyable for me. Yes ME. I'm tired of feeling like dinner is a chore. Like I'm my families personal servant. You know what I'm talking about ladies…
1st – I bought convenient food. Stuff I swore off previously. Like pre-washed and cut lettuce and veggies. Frozen Rice that I can just heat up quickly. And ya know what, I was wrong about the quality. YUMMY!! Everything tasted fresh and fabulous. I mean I was selective and I checked to make sure there were no added, unnecessary ingredients but man did having my lettuce cut up and washed for me change my life this week. And, we all ate a lot more salad. Now don't get me wrong – I LOVE buying from a local farm and cutting it up all by myself but sometimes, I just can't do it. So I bought into the help!
2nd, I sat my family down and had a heart to heart about how dinner could be a fun, family affair and that I really needed their help to create that vision. I shared with them that I was tired at the end of the day and feeling like prepping dinner was a chore. I shared with them that I had a vision of dinner being something I looked forward to and asked them if they'd help me achieve that. It was amazing what happened next…
Because I asked them for their help and their ideas – they immediately started giving me their help and ideas. Imagine that! (Ask for help and get it. Hmmmm, I was on to something.) My daughter had ideas about the music we'd play and what we'd cook. She had some ideas of games we could play at the table (like telephone – ha!) My husband added ideas about themed evenings with costumes. Soooo funny and strange but fabulous right? And… they had ideas about trading off jobs: prepping, cooking, cleaning, drying.   
The lesson for me? Ask for freaking help! Of course, this goes for all the areas of your life. When I started asking for help in my business, I saw my business grow exponentially, quickly.
Help is a beautiful thing. Embrace it. You deserve it!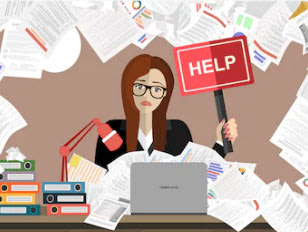 Favorite Read of The Week
Fell upon this article that I had read before but really says it all when it comes to success, business and "going it alone." Or NOT! Take the time to check out this 2-minute read – it's well worth it. Thank you Jeff Havens for this reminder!
https://www.fastcompany.com/3029889/4-reasons-you-shouldnt-try-to-do-everything-yourself
Video That Moved Me
Ok so I'm a sap, what can I say. This video shows the power of kindness… even the smallest act and it really struck me this week, being focused on support. Getting help is fun, fabulous and necessary. But just as necessary as it is…giving help is equally as impactful. Giving changes our view of the everything. This video is "give to get" in action.  If you're a sap like me, grab the tissues.
https://www.youtube.com/watch?v=Qww_yQqBpqA
New Song I'm Loving
Want a chill, grooving song that just nails the "we need each other" without being cheezy? THIS IS IT!! I  forgot about this song… click here to listen:
"DO IT" for The Week
I have two (2) DO-ITS for you this week:
Get help! Figure out what you need the most. Where are you feeling challenged, depleted and in need? Then… figure out what you need to not feel that way and who you can get support from. Then… ASK (for help).  And don't be attached to any individual saying yes. If someone can't help, ask someone else.

Give help. It doesn't have to cost you a bunch of time. It doesn't have to cost you a bunch of money. There are people in need of support everywhere. In your life, outside of your life. Just look around and see how you can be supportive. It's very easy for us to get caught up in our own world. Lift your head up, look around and see where you can help. Watch this video for inspiration:

https://www.youtube.com/watch?v=Qww_yQqBpqA

.
Have an incredible week!!
Xoxo
amy