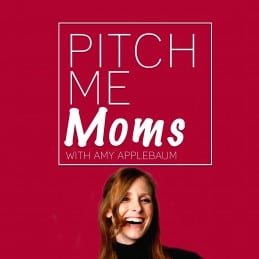 Did you start your business because you felt passionate about something in your life or were feeling "inspired," or just wanted to solve a problem that you found a solution to? Or are you thinking of starting a business for any of those reasons? If you answered, "yes," you could be headed straight for business failure. Sound crazy? It is not – we assure you.
In this episode of "Pitch Me Moms," top business coach, media personality and mom of a 4 year old, Amy Applebaum, hits hard on why "inspiration" is NOT the path to success. I mean, of course, we all know that being inspired, passionate and motivated and having a vision is an excellent and critical first start to any business venture. After all, without passion, who wants to get up every day and work? And if you're an entrepreneur or are going to be one, didn't you make that choice because you wanted to declare your own future, dictate your own schedule and terms, work "your" way? Of course – because otherwise, we would all have jobs and/or be satisfied with a job, right?
However, inspiration, passion and vision mean absolutely nothing without many other critical, key elements. Alone, inspiration, passion and vision do not determine the success of your business. Well, Alexia Beckford, of "Scoop Media," was not satisfied with having a job. So, she "went for it," and has many of the criteria it takes to be a successful entrepreneur. She is passionate, inspired, and motivated. But, she is missing some other critical elements to her business that must be changed if she is going to see the success she is hoping for.
In this episode of "Pitch Me Mom's," you will learn the the 2 key elements that are missing from Alexia's business-and inspiration is not one of them. And while you may not know Alexia yourself, most entrepreneurs are struggling with the same handful of business-crippling issues. They keep making the same mistakes, over and over and over. STOP IT. You have an opportunity to learn from the entrepreneurs that have gone before you. That is what this podcast is all about – showcasing the journey of an entrepreneur so that you can learn to bust a move in your business and achieve the success you want and deserve. You will learn, in this podcast, how to prevent business killing strategies, tactics, behaviors, and beliefs. You will also have an opportunity to turn around these destructive challenges that you're struggling with.
In this episode of "Pitch Me Mom's", Amy coaches as well as shares her own business destroying experiences. Her entrepreneurial career started when she almost killed a small, 3-year old boy with a 150 pound sticker vending machine. This action packed episode is loaded with coaching tips including: the critical element your sales pitch needs in the first 30 seconds, the number 1 reason mom-preneurs fail, the 3 questions you need to answer to define your business, and the sole purpose of your website. Inspired? It's time to listen.
Podcast: Play in new window | Download